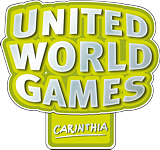 United World Games – A youth sports event that is one-of-a-kind
We'd like to invite your school to a truly special international youth sports event – our annual United World Games.
Thousands of athletes from all across the globe travel to the Austrian city of Klagenfurt each year, to compete in 13 different sports and celebrate their common passion, united under the banner of cultural exchange & international friendship.
As one of the world's biggest multisport events for young athletes, we are expecting some 10.000 participants in 2018 – the 14thedition of the Games. Be part of it and experience thrilling competitions with teams from every corner of the world, loads of fun, summer feeling and an amazing atmosphere. The United World Games 2018 will take place under the patronage of the UNESCO from June 21 – 24.
In addition to the tournaments an extensive supporting programme with numerous side events is waiting for you, one of the many highlights being the big Opening Ceremony.
Visit our workshop and learn more about the event, travel opportunities and other exciting activities to do around the United WorldGames.